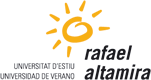 To access our intranet in safe mode you must install the UA Security Certificate.
If you have already installed the Certificate you may visit our Intranet .
IF YOU WISH TO DIRECTLY REGISTER FOR OUR COURSES, PLEASE DOWNLOAD THIS FORM AND SEND IT BACK TO US AT UNIVERANO@UA.ES
Information © 2019 Universidad de Alicante Fundación General. CIF: G53738308.
Campus de San Vicente del Raspeig, 03690 Alicante, Spain.
Tel: +34 965 90 98 21 Fax: +34 965 90 38 39
Email: univerano@ua.es.
Validación: XHTML 1.0, CSS2.