ALICANTE
Alicante (Spanish language) or Alacant (Valencian) is a city in Spain, the capital of the province of Alicante, in the southern part of the Valencian Community. It is also a historic Mediterranean port.
Alicante is one of the fastest-growing cities in Spain.
The population of the city of Alicante proper is approximately 325,000, the second-largest Valencian city. Population of the metropolitan area (including satellite towns) is around 725,000, ranking as the eighth-largest metropolitan area in Spain.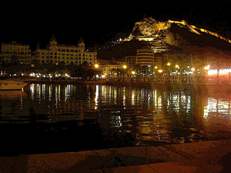 UNIVERSITY OF ALICANTE
INFORMATION ABOUT alicante and spain
lOCAL NEWSPAPERS
TRANSPORT
(beautiful) WEATHER IN ALICANTE